THYROID AND PARATHYROID SURGERY
FLUOBEAM
®

LX
The solution dedicated to parathyroid imaging
FLUOBEAM® LX is an imaging device exclusively dedicated to thyroid and parathyroid surgery, which offers surgeons optimal comfort of use throughout the procedure. With its high sensitivity, the system allows the detection of parathyroid glands in autofluorescence with an optimized image fluidity, a large depth of field and a use compatible with the ambient lighting of the operating room.
PLASTIC AND RECONSTRUCTIVE SURGERY
LYMPHATIC SURGERY
FLUOBEAM
®
LM

Advanced technology to assess perfusion
FLUOBEAM® LM is the new innovative solution for the evaluation of perfusion and lymphatic system functioning. When used with indocyanine green (ICG), FLUOBEAM® LM is an integrated fluorescence imaging solution that provides surgeons with a real-time image of tissue perfusion in fluorescence in the surgical field. Its ease of use and its Image processing functions makes it a major asset for surgeons.
BENEFITS OF FLUOPTICS TECHNOLOGY
High sensitivity
Fluorescence imaging's approach developed by FLUOPTICS© makes it possible to detect weak fluorescence signals. With its high sensitivity, FLUOBEAM® can detect these signals In real time with a large depth of field and compatibility with the ambient lighting of operating rooms.
Easy to use
FLUOBEAM® camera has been designed to provide surgeons with a comfortable grip and intuitive handling during surgery. Its joystick ensures a simplified navigation in software functionalities and gives the surgeon total autonomy when using the device.
Safety for the patient and the surgeon
FLUOBEAM® has been designed to offer a high level of technical performance while ensuring the safety of users and patients. Its class 1 laser Guarantees total eye safety for users and limits the emitted power without compromising the high sensitivity of the system.
No break in the "Surgical Workflow"
FLUOBEAM® is easily integrated into the surgical procedure. Its handling allows the surgeon to easily access all the functionalities available. Information is provided in real time, without external intervention. The interface offers specific functionalities to each surgical indication which are activable with a flick of a finger.
"Near-infrared imaging used during total thyroidectomies significantly reduces postoperative hypocalcemia, improves parathyroid identification, and reduces their autotransplantation rate."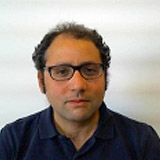 Dr Fares Benmiloud
General surgeon, Hôpital Privé de Provence, Aix-en-provence, France
"L'imagerie de fluorescence dans le proche infrarouge accroît significativement le nombre de glandes parathyroïdes identifiées durant la chirurgie de la thyroïde."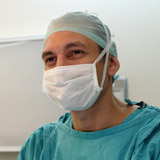 Dr Fernando Dip
Maxillofacial surgery, otolaryngologists, University of Buenos Aires, Argentina and Cleveland Clinic, Florida, USA
All innovation is a change of habit. It is both a fear and an opportunity. From surgeons to patients, these little stories of everyday life are part of the great story of medical progress.
THE SECRET OF ENLIGHTENED SURGEONS
They are all chasing excellence. In search of that X-factor that makes the difference. Some surgeons have found it, others are still chasing…